Onboarding, also known as organizational socialization, is management jargon first created in the 1970s that refers to the mechanism through which new employees acquire the necessary ...
Recruiting has mostly been influenced by information technology. In the past, recruiters relied on printing in publications and word of mouth to fill open positions. HR professionals ...
1. Be proactive with succession planning It can take time to find and prepare a promising candidate for a leadership role. As such, don't dawdle with this part of your plan. Even ...
Identifying Key Business Areas and Positions: First and foremost, the key business areas are identified, i.e. the areas which are significant with respect to the operational activities ...
Succession Planning is defined as the systematic process of recognizing and creating future leaders who are able to take the position of the old ones when they leave the organization ...
The future is uncertain. There are several external factors viz. Technological, political, cultural, etc. that affects the employment opportunities. Therefore, the management can consider ...
When it comes to long-term planning for your business, regardless of its size, succession planning should be a key part of the process. Key benefits of succession planning include: Time ...
The function of human resources departments is administrative and common to all organizations. Organizations may have formalized selection, evaluation, and payroll processes. Management ...
A human resources management system (HRMS) or human resources information system (HRIS) is a form of human resources (HR) software that combines a number of systems and processes to ...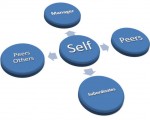 A 360-degree feedback (also known as multi-rater feedback, multi source feedback, or multi source assessment) is a process through which feedback from an employee's subordinates, ...