Succession Planning is defined as the systematic process of recognizing and creating future leaders who are able to take the position of the old ones when they leave the organization ...
The future is uncertain. There are several external factors viz. Technological, political, cultural, etc. that affects the employment opportunities. Therefore, the management can consider ...
When it comes to long-term planning for your business, regardless of its size, succession planning should be a key part of the process. Key benefits of succession planning include: Time ...
The function of human resources departments is administrative and common to all organizations. Organizations may have formalized selection, evaluation, and payroll processes. Management ...
A human resources management system (HRMS) or human resources information system (HRIS) is a form of human resources (HR) software that combines a number of systems and processes to ...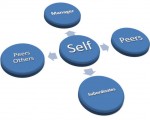 A 360-degree feedback (also known as multi-rater feedback, multi source feedback, or multi source assessment) is a process through which feedback from an employee's subordinates, ...
Many needs assessments are available for use in different employment contexts. Sources that can help you determine which needs analysis is appropriate for your situation are described ...
Over the last 20 years the critical nature of the man-in-the-loop has changed from simply manual dexterity and procedural operation to a state in which their decision making, cognitive ...
Training Analysis (sometimes called Training Needs Analysis (TNA)) is the process of identifying the gap in employee training and related training needs. Training Need Analysis (TNA) ...
Social media are interactive computer-mediated technologies that facilitate the creation or sharing of information, ideas, career interests and other forms of expression via virtual ...